by Joseph Rickert
UserR! 2014 got under way this past Monday with a very impressive array of tutorials delivered on the day that the conference organizers were struggling to cope with a record breaking crowd. My guess is that conference attendance is somewhere in the 700 range. Moreover, this the first year that I can remember that tutorials were free. The combination made for jam-packed tutorials.
The first thing that jumps out just by looking at the tutorial schedule is the effort that RStudio made to teach at the conference. Of the sixteen tutorials given, four were presented by the RStudio team. Winston Chang conducted an introduction to interactive graphics with ggvis; Yihui Xie presented Dynamic Documents with R and knitr; Garrett Grolemund  Interactive data display with Shiny and R and Hadley Wickham taught data manipulation with dplyr. Shiny is still captivating R users. I was particularly struck by a conversation I had with a undergraduate Stats major who seemed to be genuinely pleased and excited about being able to build her own Shiny apps. Kudos to the RStudio team.
Bob Muenchen brought this same kind of energy to his introduction to managing data with R. Bob has extensive experience with SAS and Stata and he seems to have a gift anticipating areas where someone proficient in one of these packages, but new to R, might have difficulty.
Matt Dowle presented his tutorial on Data Table and, from the chatter I heard, increased his growing list of data table converts. Dirk Eddelbuettel presented An Example-Driven, Hands-on Introduction to Rcpp and Romain Francois taught  C++ and Rcpp11 for beginners. Both Dirk and Romain work hard to make interfacing to C++ a real option for people who themselves are willing to make an effort.
I came late to Martin Morgan's tutorial on Bioconductor but couldn't get in the room. Fortunately, Martin prepared an extensive set of materials for his course which I hope to be able to work through.
Max Kuhn taught an introduction to applied predictive based on the recent book he wrote with Kjell Johnson. Both the slides and code are available. Virgilio Gomez Rubio presented a tutorial on applied spatial data analysis with R. His materials are available here. Ramnath Vaidyanathan Interactive Documents with R  Have a look at both Ramnath's slides, the map embedded in his abstract and his screencast.
Drew Schmidt taught a workshop on Programming with Big Data in R based on the pdbR package. The course page points to a rich set of introductory resources.
I very much wanted to attend Søren Højsgaard's tutorial on Graphical Models and Bayesian Networks with R, but couldn't make it. I did attend John Nash's tutorial on Nonlinear parameter optimization and modeling in R and I am glad that I did. This is a new field for me and I was fortunate to see something of John's meticulous approach to the subject.
I was disappointed that I didn't get to attend Thomas Petzoldt's tutorial on Simulating differential equation models in R. This is an area that is not usually associated with R. The webpage for the tutorial is really worth a look.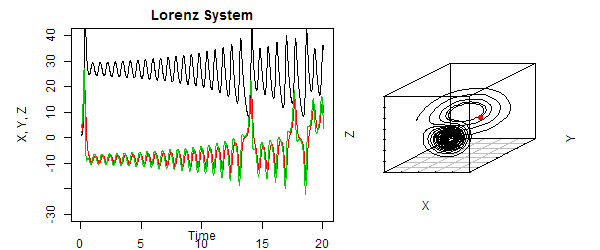 I don't know if the conference organizers planned it that way, but as it turned out, the tutorial subjects chosen are an excellent showcase for the depth and diversity of applications that can be approached through R. Many thanks to the tutorial teachers and congratulations to the UseR! 2014 conference organizers for a great start to the week. I hope to have more to say about the conference in future posts.